People with complex needs, including autism and learning disabilities, will soon be moving back to North Yorkshire to be closer to their families following the opening of a £2.83 million specialist housing scheme.
Broadacres Housing Association and NHS Humber and North Yorkshire Integrated Care Board (ICB) have worked with various partners to complete work on this state-of-the-art seven-bungalow development in Brough St Giles, near Catterick.
Six of the new two-bedroom homes at Collier Hill Court have been allocated to people with a connection to the area, with a further bungalow acting as accommodation for staff from Stokesley-based Positive Individual Proactive Support (PIPS) who will provide 24-hour-a-day care and support to the residents.
The residents will be moving in stages over the coming months as part of the settling in process.
More than £2 million of the overall funding for the project was secured by the former local NHS clinical commissioning group (now part of the ICB) from NHS England's Learning Disability Capital Programme, with contributions from Broadacres making up the difference.
Representatives from the various partners attended the official opening of Collier Hill Court on 2 June.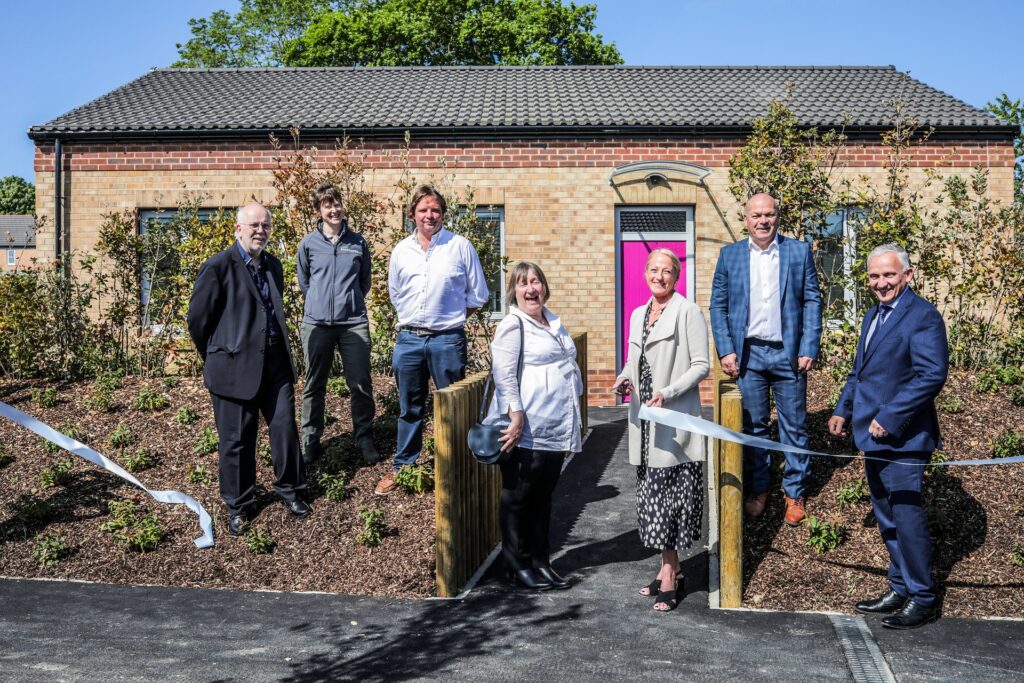 Gail Teasdale, Chief Executive of Broadacres Housing Association, said: "We're delighted to have completed work on this unique development which enables people from our area to move back into the community and be closer to their family, friends, and other support networks.
"It was a complex scheme to bring to fruition so it's a great example of what can be achieved when partners come together to reach one common goal."
Amanda Bloor, NHS Humber and North Yorkshire ICB Chief Operating Officer, said: "It is fantastic to see how every aspect of the design of these properties takes into consideration the complex needs of the people who will call these bungalows their home.
"It's been a pleasure to have been involved in delivering this project from the very start and I'd like to thank Broadacres, NHS England and other partners for helping to turn a vision we had in 2018 into a reality."
Gill Hunt, Director of Nursing – Professional and System Development for NHS England in the North East and Yorkshire, said: "This is a wonderful example of collaborative working, with the local people who will live here, their families, Broadacres, the local Council and local NHS. We believe the future residents of Collier Hill Court will enjoy healthy and happy lives here, with support from their skilled and caring support workers. We are really pleased that we were able to help fund this fantastic development."
Paul Newton, Managing Director of Positive Individual Proactive Support (PIPS), said: "PIPS are delighted to see the fruition of its detailed work with Broadacres to develop bungalows which are purposely designed for individuals with learning disabilities and/or autism. PIPS have used seven years of learning to ensure that the bungalows will become comfortable homes for the new residents with the support of our highly experience staff team."
North Yorkshire Council's executive member for health and adult services, Cllr Michael Harrison, said: "We are pleased to see the completion of the development of Collier Hill Court, which will be a great asset to North Yorkshire.
"Helping support people to live a healthy, independent and active life in the community is a strategic aim for North Yorkshire Council and developments like this are to be welcomed."
The homes were built for Broadacres by Hartforth Homes with support from its employer's agent Nicol Thomas.
They have been constructed to the standards set by Association for Environment Conscious Building (AECB), using Passivhaus construction principles which means they will use very little energy and so have low running costs.
The bespoke design also means it has been possible to reduce possible triggers for people with autism, so for example maintenance of services can be undertaken externally reducing the requirement for access into the homes, and because of the increased insulation, it reduces noises within the home from the external environment.
It is hoped these state-of-the-art homes become a blueprint for the country with North Yorkshire leading the way in this crucial service.