People & Workforce
We are working together to ensure we can find and keep the right people, in the right places, with the right skills, to deliver care for our populations.
Our People Strategy
We developed our People strategy through a process of broad partner engagement, starting with a System Workforce Maturity (SWIM) assessment and building towards our Ignition event in December 2020, where we co-produced our People strategy.
Our strategy offers a long-lasting architecture which we use to understand the people and workforce challenge and to organise our change activities.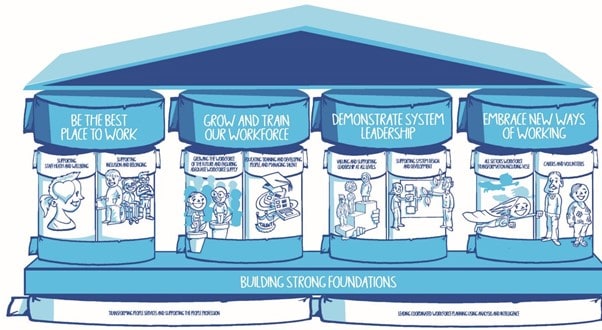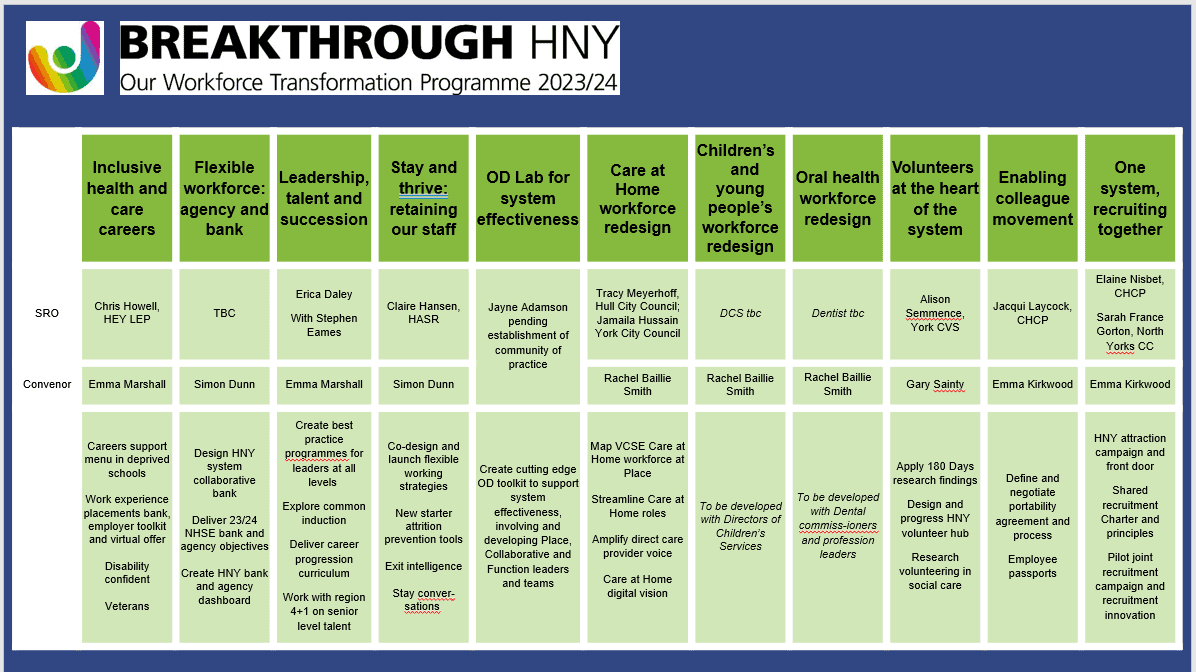 The Breakthrough task and finish groups are open to stakeholders across Humber and North Yorkshire. If you would like to get involved, please contact us.
Making the Change
Our current workforce transformation programme is called Breakthrough HNY. Here you can see the task and finish groups that will form the Breakthrough programme. Click on the image to view in finer detail.
We are currently creating momentum, establishing new governance and delivery structures and identifying, designing and delivering some core products that will underpin our future work.
Our first phase of workforce transformation was the 180 Days of Action on Workforce programme. Click below to see the video on the vision of the integrated system to transform workforce and the storybook. The programme has also been nominated for the two awards below.
Our governance
This overview shows the governance within the people function. All groups report into the workforce board, who then reports to the integrated care board. Click on the image to see the finer details.

Our community and leadership
Our People and Workforce community is drawn from the whole of our health and care workforce and we aim to make sure that every part of our system has an equal voice. 

Jason Stamp, Senior Responsible Officer for Workforce

Jayne Adamson, Executive Director for People
"Across Humber and North Yorkshire, our people are our biggest asset. Working together across health and social care, we now have an opportunity to grow and develop our workforce and transform the way we work. Investing in our workforce and unlocking the potential we already have will be our catalyst for change"
Jason Stamp, Senior Responsible Officer for Workforce
Learn more about our people & workforce: