Health and wellbeing
We are committed to supporting the health and wellbeing of all our colleagues.
Health and wellbeing
We know that individual organisations are doing some fantastic work and have strong health and wellbeing offers available to their staff and we want to build on that work to support our colleagues further.
That's why on this page you will find health and wellbeing offers available to all health and social care colleagues within Humber and North Yorkshire ICS.
Menopause
Some 75-80% of our workforce are women and consequently, at any one time a significant proportion of our female workers will experience symptoms of menopause which might impact on their working life.
July 2022 saw HNY Health and Care Partnership achieve our ambition of becoming a menopause friendly ICS.
We've come a long way in our journey to make sure we live and breathe our menopause-friendly status in HNY and we will continue to work with our partner organisations to provide support and raise awareness.
If you have any comments or suggestions, or if we can provide further help and support, please email hny.wellbeing@nhs.net.
Resources
Balance– Balance is a free app created by Dr Louise Newson which is specifically centred around Menopause. You will find lots of helpful resources, podcasts, video's that will help you through your menopause journey. Balance also offer a library of resources, please take a look at the website for further information and how to download the Balance app here.
Scroll to the bottom of this page for more recordings of menopause, health and wellbeing sessions.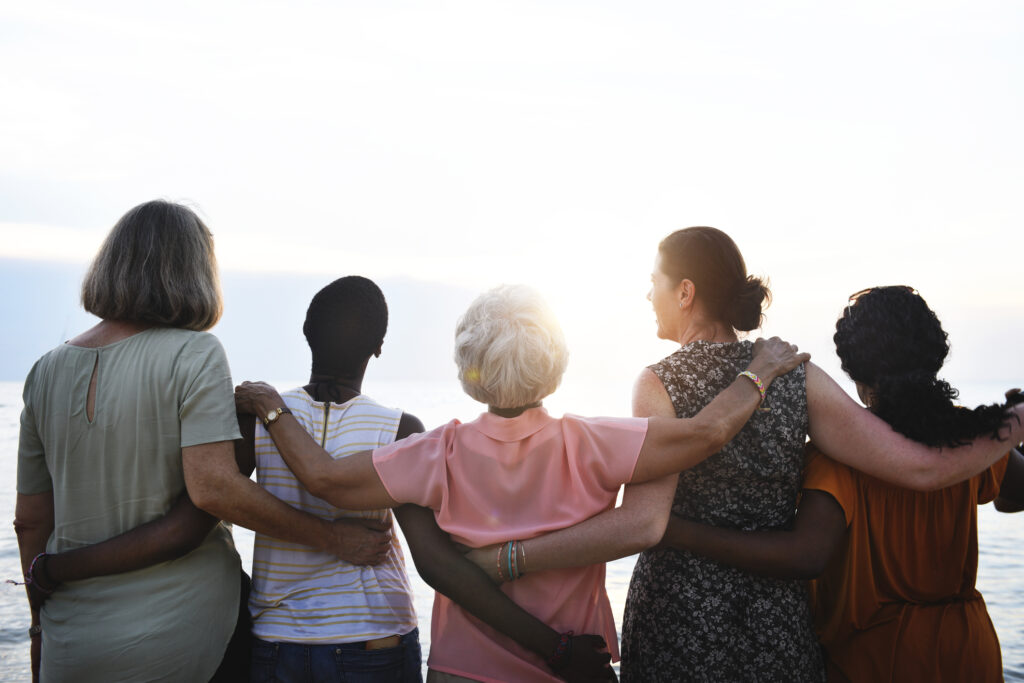 Men's Health
Globally, men die on average six years earlier than women, and for reasons that are largely preventable. Which means that it doesn't have to be that way: we can all take action to live healthier, happier and longer lives.
There are a number of Men's Health Resources below that you may find useful including all of our resources and sign posting highlighted during Men's Health week.
Resources
Resilience Hub – Our Resilience Hub staff are trained mental health professionals with extensive experience of working with people who have experienced traumatic and distressing events. The team works with individuals as well as teams to develop and promote resilience.
Qwell – A free online mental health and emotional wellbeing support service has been launched to help men living across the area.
Talk Suicide – #TalkSuicide is a suicide prevention campaign where you can also find local support near you.
Andy's Man Club – The club run talking groups for men who have either been through a storm, are currently going through a storm or have a storm brewing in life.
Menfulness – A men's wellbeing group led by five men from York who, like most of us, have struggled with mental health and the pressures of life.
FIT Mums and friends – You don't have to be a mum or fit – men, dads, grandparents are all welcome. Fitmums & Friends are friendly, sociable and supportive running and walking clubs organised by volunteers.
Armed Forces and Veteran's breakfast club – The purpose is to facilitate veterans and serving Armed Forces personnel to meet face-to-face in a relaxed, safe, social environment to enjoy breakfast and banter, to combat loneliness and allow veterans to 'return to the tribe'.
Men's Sheds – What is a Men's Shed? Men's Sheds (or Sheds) are similar to garden sheds – a place to pursue practical interests at leisure, to practice skills and enjoy making and mending. The difference is that garden sheds and their activities are often solitary in nature while Men's Sheds are the opposite. They're about social connections and friendship building, sharing skills and knowledge, and of course a lot of laughter.
Good advice on living better for men
Hub of Hope – The Hub of Hope is the UK's leading mental health support database. It is provided by national mental health charity, Chasing the Stigma, and brings local, national, peer, community, charity, private and NHS mental health support and services together in one place for the first time.
Good Samaritans – If you need to contact someone urgently for a confidential chat you can call The Samaritans free any time, from any phone, on 116 123.
Calm – Calm run a free and confidential helpline and webchat – 7 hours a day, 7 days a week for anyone who needs to talk about life's problems.
Miricyl– Miricyl offer a directory of Mental Health Services and Resources across the United Kingdom, tailored to individuals.
Halsa Wellbeing Sessions – Here you will find details on recent sessions such as sleep aware, blood pressure aware, exercise for non-exercisers, heads up on men's minds, and men's health and wellbeing.
Men's Health Week 2022 – Video Sessions
Our People App
A fantastic new app has launched for health care and emergency service staff across North and North East Lincolnshire, Humber, East Riding and North Yorkshire.
Our People is part of and builds on the existing support provided across the Humber and North Yorkshire Health and Care Partnership and Humber and North Yorkshire Resilience Hub. It's designed to maintain and improve the wellbeing and physical and mental health of staff by providing a range of self-help resources to people 'on the go'.
Centred around the 5 ways to wellbeing (Be Active, Connect, Take Notice, Keep Learning and Give), the app is designed to make looking after your wellbeing fun and interactive and provides you with the tools to build healthy, positive habits into your everyday lives.
Sometimes the smallest change can make a big difference and a little daily reminder can go a long way to maintaining those changes. A personal, digital wellness coach, Charley, can help you to create and continue small daily habits that can boost your wellbeing and help you to become a happier, healthier you.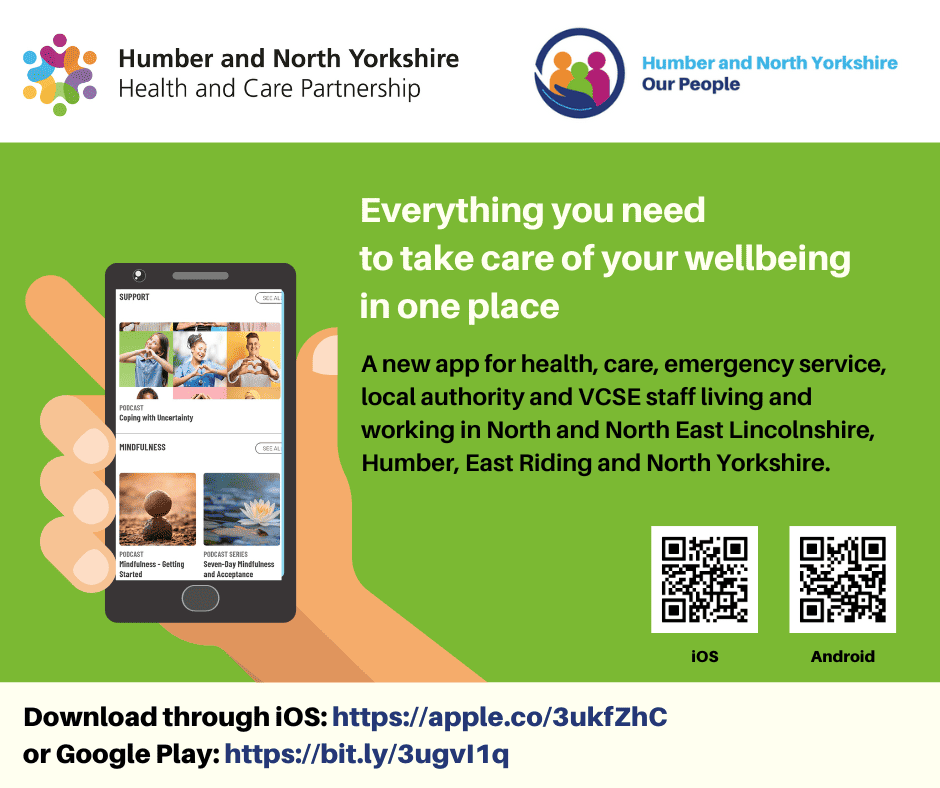 A series of weekly posts provide you with wellbeing advice and support; and our self-help catalogue, including a range of materials and podcasts, gives you the tools at your fingertips to help manage your wellbeing positively.
If you're looking for a little extra motivation you can also take part in challenges with other health, care and emergency service colleagues and track your progress along the way.
For anyone needing more in-depth mental health support, you can also refer to the Humber and North Yorkshire Resilience Hub who can provide additional support and advice. Take the next steps to maintain and support your wellbeing and download Our People through iOS or Google Play
Coaching Network
We are delighted to announce that our new coaching network is now live! If you are a qualified coach or a coach-in-training, we need you to register on our new coaching network platform.
The coaching network will be a one-stop-shop that will connect coaches with people looking for coaching (coachees) across health and care in Humber, North and West Yorkshire. It has been designed to replace older systems to make accessing coaching simpler and will allow us to build our own diverse coaching community.
Signing-up to the coaching network as a coach or a coach-in-training will give you access to ongoing development, support and supervision as a member of our new coaching community. It's quick and easy to do – simply visit the platform and complete your personal profile.
To support you as a coach we have a number of masterclasses available which you can book here: Humber and North Yorkshire Health and Care Partnership – Booking by Bookwhen
We have a whole heap of resources, tools, recordings of previous masterclasses, handbooks and useful templates in our coaching repository in conjunction with West Yorkshire ICS.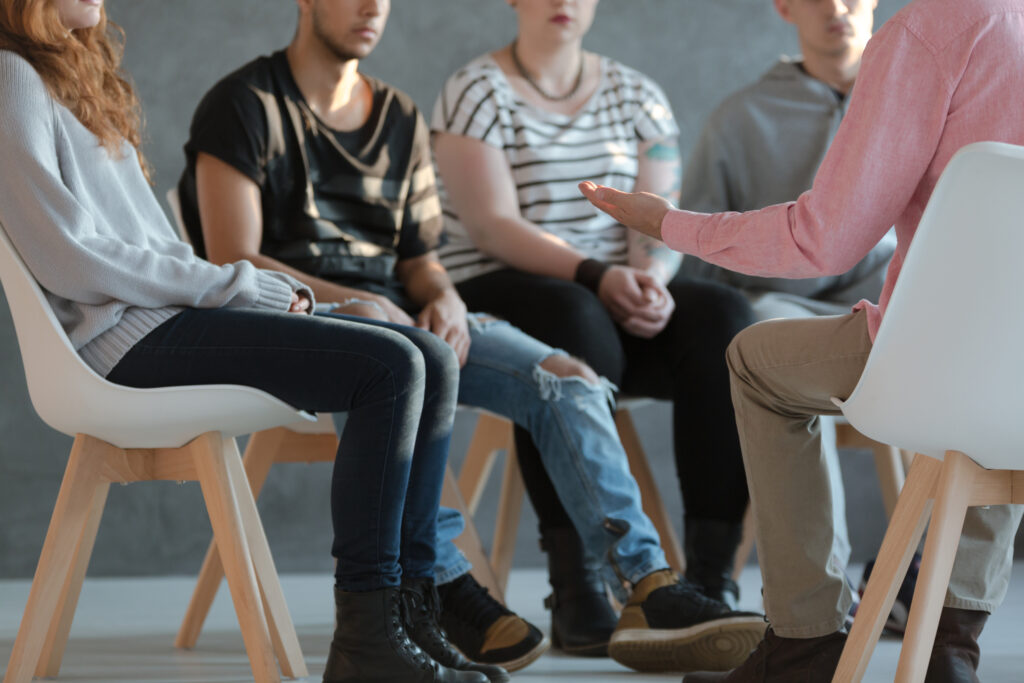 Financial Wellbeing
MoneyHelper is here to help, so you can move on with life. Here to cut through the jargon and complexity, explain what you need to do and how you can do it. Here to put you in control, with free, impartial help that's quick to find, easy to use and backed by government.
Whatever your circumstances or plans, MoneyHelper is on your side. Online, over the phone or face-to-face, we're here to give you clear money and pensions guidance. We can also point you to trusted services, if you need more support.
Open to everyone, MoneyHelper is helping people to clear their debts, reduce spending and make the most of their income. To support loved ones, plan ahead for major purchases and find out about entitlements. To build up savings and pensions, and know their options.
Watch a video explaining more about MoneyHelper.
MoneyHelper recently spoke to colleagues about their free online resources and ways to help with financial struggles.
Scroll to the bottom of this page to watch recordings of sessions we've held around financial wellbeing.
Humber Recovery and Wellbeing College
The Humber Recovery and Wellbeing college provides peer-led education as a route to meaningful mental health recovery. The college work alongside and support students, volunteers, community organisations and healthcare professionals to coproduce an educational programme that responds to self-defined needs of a collective student body.
The college facilitates and delivers a range of free, co-produced courses, workshops and other opportunities for learning. Personal lived experience, strengths-based peer learning, grassroots co-production and shared decision-making is at the centre of what is on offer. Educational resources are a result of blending different kinds of knowledge and experience, harnessing the expertise that comes from both professional training and real lived experience.
Visit the Humber Recovery & Wellbeing College website for more information on the range of e-courses and live video-call sessions on the e-learning platform. You can sign up to join the college here.
You can also contact the college by email or call 01482 389124.


Back to basics for a healthy working environment
Over the last few years, the lack of basic facilities and provisions that enable our NHS staff to eat, sleep, rest, and hydrate has been called to attention as a significant issue. There is an urgent need for employers to prioritise and consider the impact of basic needs and a healthy working environment to support the wellbeing of NHS staff.
In the NHS 2021 staff survey, over 21% of respondents indicated that they often or always felt that every working hour is tiring for them. It is vital we address basic staff needs (such as sufficient breaks) as a priority.
The poster provides a range of up-to-date key statistics and facts about the impact of hydration, nutrition, sleep, breaks and facilities on workforce wellbeing.
---
Recordings of webinars / workshops and additional resources
Men's health
General health and wellbeing