As I see it – the latest blog from Sue Symington
Last week, I had the privilege of welcoming senior leaders from key sectors across our region to address some of the significant challenges faced by children and young people. This symposium was a pivotal moment in our ongoing commitment to ensuring that every child receives the best possible start in life and that the next generation is healthier than the last. It brought together experts from various fields to explore some of the innovative solutions, including the 'Child of the North' initiative, which holds the potential to make a significant impact on the lives of our young people.
The symposium had a clear focus on addressing health and developmental issues that are prevalent in Humber and North Yorkshire, as well as those affecting the broader North of England. It also sought to foster collaboration and provide a platform for regional leaders to highlight strategic imperatives that will help us tackle these challenges head-on.
In our region, more than 60,000 children are living in low-income families, and over 200,000 people live in poverty. Those who live in areas with higher income deprivation are at a greater risk of experiencing various health conditions including mental illness, obesity and diabetes. These are not just statistics; these are the lives of our children and young people, and their wellbeing is our responsibility.
The challenges and inequalities facing children and young people have been further exacerbated by the COVID-19 pandemic. It has had a substantial impact on mental and physical health, education, and poses a longer-term threat to social mobility. These effects have disproportionately affected the North of England, and this is a problem we must address collectively.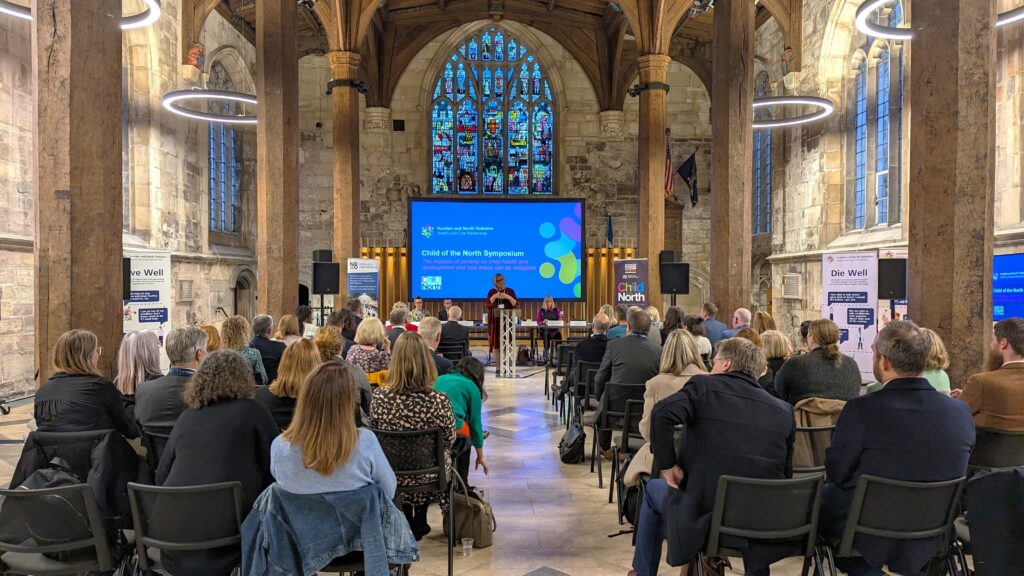 Participants from a range of sectors and industries were attracted to the symposium, all with a shared goal: to drive meaningful improvements for children and young people. As Chair of the Humber and North Yorkshire Health and Care Partnership, I had the opportunity to address the collective vision and emphasised our dedication to ensuring that every child in our region enjoys a strong start in life. Our focus is on supporting families in creating safe and nurturing environments that raise aspirations, build resilience, and enable children to grow, learn and thrive.
The symposium featured an impressive lineup of speakers, representing a range of organisations, including the University of York, Humber Teaching NHS Foundation Trust, and the Bradford Education Alliance for Health Chances. I was especially touched by a speech from Sophie, a student at the University of Leeds, who shared her personal experience of growing up in a low-income family. Listening to Sophie talk about the extremely difficult circumstances, and how it affected her and her family, made clear how important it is that we address these challenges.
One of the most promising initiatives we heard from at the symposium was 'Child of the North'. A collaboration between the N8 Research Group of universities and Health Equity North, it seeks to connect policymakers and stakeholders to promote the uptake of evidence into policy.
Following the publication of The Child of the North: Building a fairer future after COVID-19 report, the Child of the North All-Party Parliamentary Group (APPG) has been established. Its purpose is to create a fairer future for children across the North of England and to develop policy solutions that will tackle the stark inequalities across our region.
The 'Child of the North' initiative is a testament to our commitment in the North of England to creating a better future for our children and future generations.
The disparities in the experiences of children and young people growing up in the North, compared to other regions, are alarming. However, working with partners from across our region will allow us to collectively address these challenges. Together, we can make real change and deliver our vision for the people of Humber and North Yorkshire.
The Humber and North Yorkshire Health and Care Partnership is unwavering in its commitment to ensure that everyone in our region lives longer, healthier lives. We are creating the conditions to enable and empower our people, communities and organisations to achieve positive change.
This symposium was a vital step toward achieving our goals of better health and wellbeing for our children and young people. The challenges are substantial, but our dedication and collaborative efforts are stronger.
Together, we can make a real change in the lives of those who need it most and ensure that every child in Humber and North Yorkshire can thrive and succeed.