A nine-year-old girl from Barton-upon-Humber, one of three winners of a drawing competition to mark the 75th anniversary of the NHS, says the NHS saved her parents' lives.
Sophia H entered the NHS Humber and North Yorkshire Integrated Care Board (ICB) contest, together with more than 350 other young people.
Her poignant iPad artwork was chosen as the Key Stage Two group winner by a panel of judges from the ICB.
Sophia said: "The NHS looked after my mum and dad as they both needed to have operations.
"My dad needed a kidney transplant, and my granny donated her kidney. My mum had colitis and needed an operation. They are both better now, and the NHS cared for them."
NHS Humber and North Yorkshire ICB ran the drawing competition in July as a way for young people to get involved in the celebration of the 75th anniversary of the NHS.
The competition encouraged children from across Humber and North Yorkshire to participate by submitting a picture of what the NHS meant to them.
The ICB received a range of submissions depicting the work and achievements of one of the nation's most loved institutions.
The entries were categorised into school key stage groups to judge the competition, and three winners were selected.
Alice C, aged 7, from York, was the Key Stage One group winner.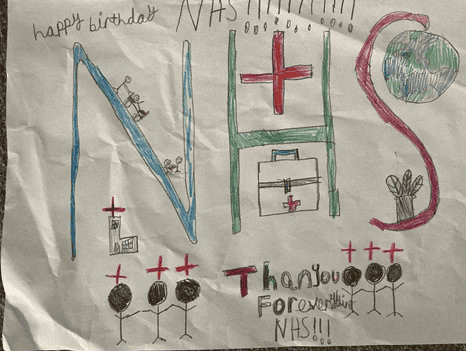 When asked what the NHS meant to her and the meaning behind the drawing (above), she said: "I did my drawing because the NHS helps everyone, and without it, poorly people wouldn't be able to be looked after."
Violet H, aged 14, from Scunthorpe, was the winner from the Key Stage 3 group.

When asked about the meaning behind her picture (above), she said: "Our art teacher encouraged our class to participate in the competition and submitted our drawings.
"I found a picture online which I used as inspiration for my drawing and used watercolour to create it.
"I wanted to focus on older people as they rely on the NHS, and my teacher suggested adding words that I associate with the NHS around the hands as a background."
The three winners of the NHS artwork competition have all received their framed artwork, a Waterstone gift card and a Fitbit, together with invitations to attend the 44th regional NHS Carol Service at York Minster.
NHS Humber and North Yorkshire ICB chair, Sue Symington, said: "The standard of entries we received was exceptional and we were delighted so many young people took the opportunity to showcase how much the NHS means to them.
"Some of the young people who entered may even go on to have careers in the NHS. Whatever career path lies ahead, I hope they all continue to be wonderful champions of the NHS."
Click here to learn more about the NHS marking its 75th anniversary this year.