The Stroke Association and NHS have recently relaunched the Act FAST campaign which aims to reduce the amount of time between someone having a stroke and accessing emergency healthcare.
There are around 100,000 strokes in England, Scotland, and Wales every year, with around 33,000 stroke related deaths each year, as well as being a leading cause of disability.
The F.A.S.T. (Face, Arms, Speech, Time) acronym provides a memorable way of identifying the most common signs of a stroke and emphasises the importance of acting quickly by calling 999.
Face – the face may have dropped on one side, the person may not be able to smile, or their mouth or eye may have drooped.
Arms – the person may not be able to lift both arms and keep them there because of weakness or numbness in one arm.
Speech – their speech may be slurred or garbled, or the person may not be able to talk at all despite appearing to be awake; they may also have problems understanding what you're saying to them.
Time – it's time to dial 999 immediately if you notice any of these signs or symptoms.
Stroke survivors from our Humber and North Yorkshire region have come together to share their stories in support and to raise awareness of the risks, signs, and symptoms of stroke.
Clive aged 70 from North Yorkshire experienced numerous strokes after a family trip away in November 2021.
Clive had felt unwell of the weekend on his return home. He arranged for an emergency visit with a local doctor on Monday, where his symptoms were not initially recognised.
After lunch Clive called a friend at a local hospital. The friend noticed his incoherent speech and instructed him to ask his wife to drive to the hospital straight away, where Clive was admitted.
Clive had numerous tests and a specialist surgical procedure during his 10 day stay at two specialist hospitals. The doctors believed that Clive may have had more than 5 strokes which had affected his speech, communication, and decision-making skills.
During his recovery Clive focused on gaining as much ability back as possible, so that he could aim to return to activities such as singing in York Minster and Ripon Cathedral, adjudicating in music competitions, and speaking to large groups of people.
He worked with a speech therapist who helped him recognise the ability to speak, to identify words and then gave him cognitive rehabilitation 'executive skills' aimed with what he needed to do to improve and to get back to work.
"People can recover from a stroke or many strokes. The little improvements which can happen every day suddenly can build into a major benefit."
Clive wrote over 3,000 sentences over many months which helped to improve his understanding of words and improved his ability to speak.
Clive is a determined person, and he has all sorts of abilities which can still be explored. He is looking forward to exploring new business ideas and areas including chairing a new group which aims to help people who have suffered a stroke, especially assisting families to identify professionals who are needed to help recovery.
Clive did not realise that this could happen, he had no experience of stroke and did not know anyone who'd had one. His advice to others is:
"We should take action merely when people say that they feel 'odd'. Notice the key symptoms of stroke, people who suddenly appear or seem different from their normal appearance and realise that a stroke can happen at any time. Campaigns such as Act FAST are important in highlighting this."
Andrew aged 63 from North East Lincolnshire experienced his first stroke in March 2017 after a friend who knew F.A.S.T noticed the signs.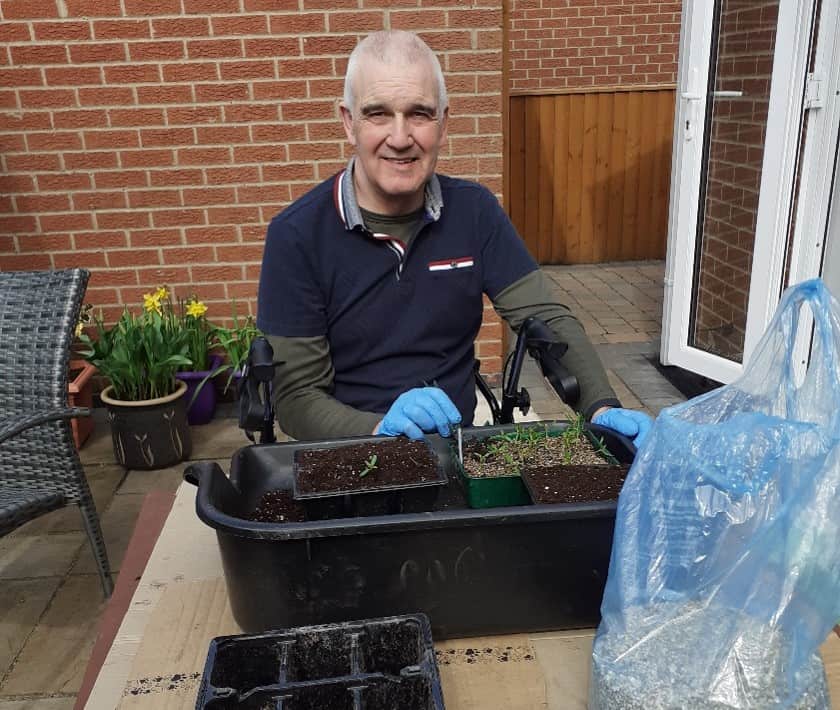 Andrew like any other day left for work and headed out on his 3am delivery round, stopping at a customer and close friend's house at 8am for a cuppa like he had many times before. When during their conversation Andrew began to feel lightheaded, confused, dazed and off balance and eventually crashed to the floor.
He was unable to use his left leg or arm and his speech had begun to change, by now Andrews friend had recognised what was happening and was already on the phone to the ambulance, which luckily was at the station less than a mile away.
"Although I didn't know it at the time, F.A.S.T was already working for me. F.A.S.T didn't just save the day; it quite possibly saved my life. I'm so grateful to those 4 letters and my good friend who knew about them."
At the hospital Andrew was met by a specialist team where he was promptly examined, had a CT scan and immediately thrombolysed. Andrew spent many days in hospital where the specialist team explained how his stroke would affect him long-term. The day that he had his stroke was also his last day at work as he then had to spend months recovering and receiving physio.
6 years on Andrew is still slowly improving, his left side is still considerably weaker, and he has some issues with balance. However, after the purchasing of a mobility scooter and a few adaptations Andrew is back to gardening and enjoying long walks with his wife again.
Andrew also runs a gardening therapy group at a local stroke support group where there is something for all abilities to get involved in.
"My advice to anybody who has palpitations, or any unusual rhythms is to see your GP and get them checked out, it could be nothing or it could lead to a stroke.

"A stroke strikes anyone, anytime, at any age. The moment a stroke strikes, brain cells start to die. It's simple maths: the faster you act, the more of that person you save. Time is crucial.

"I ask you to look at the person next to you. When you get home, look at the ones you love. Familiarise yourself with FAST."
Humber and North Yorkshire Health and Care Partnership's Integrated Stroke Delivery Network team run a Stroke Contribution Group. The group is made up of patient and carer representatives of those who have had a recent stroke or experience of caring for someone who has had a stroke.
As a group they help shape the future of stroke services locally to ensure the views of people with lived experience of stroke are taken into account in the planning, delivery and evaluation of the work of the stroke network. Whether that be yourself, a family member or if you're a carer of somebody who has had a stroke – you are welcome to access the contribution group.
See more information on the attached flyer. If you're interested in joining please contact: hnyicb-ery.stroketeam@nhs.net
If you or anyone you know needs support or advice on Stroke please visit Stroke Association or the NHS website. Learn more about the Act F.A.S.T campaign here.