Green Primary Care
Net Zero Primary Care can improve health, reduce health inequalities and reduce the carbon footprint across the entire ICS health and care system.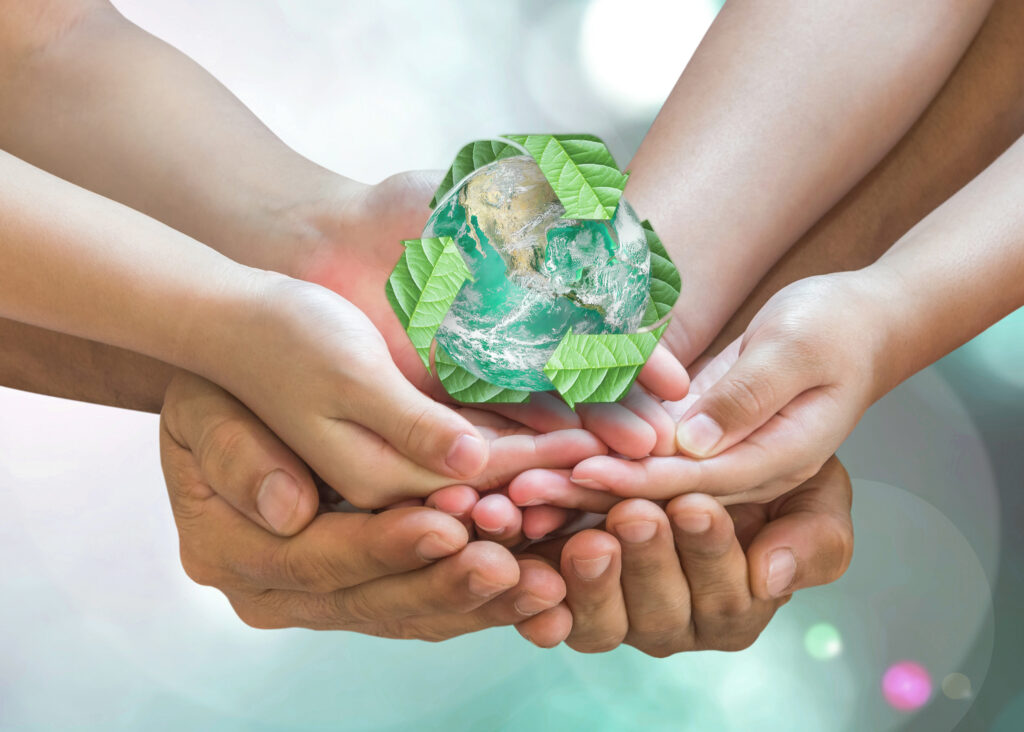 Green Primary Care
Tackling the climate and ecological crisis is the greatest health opportunity of the 21st century. Environmentally sustainable healthcare is about reducing the clinical carbon footprint of healthcare whilst improving healthcare. It is completely aligned with the core purpose of Humber and North Yorkshire ICS to improve population health and reduce health inequalities.
Primary care delivers 90% of patient healthcare contacts and most of its carbon footprint is in clinical care. Environmentally sustainable primary care therefore has the potential to improve healthcare and reduce the carbon footprint across the entire ICS health and care system. To learn more about win-win solutions for patients and planet, visit the information and resources at Greener Practice. You can also link up with your local greener practice group.
---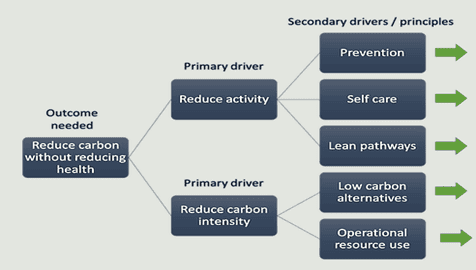 Principles of environmentally sustainable healthcare
Sustainable healthcare can be achieved either through reducing the need for healthcare or improving the efficiency of healthcare as illustrated in the driver diagram below from the Centre for Sustainable Healthcare.
It is useful to think about the four principles of sustainable healthcare when considering how to make healthcare more environmentally sustainable:
Prevention: Will it reduce the need for healthcare?
Patient empowerment: Will it enable patients to self-care?
Lean Pathways: Will patient pathways be efficient, reduce waste and prioritise care to those who need it most?
Low carbon alternatives: Are we using the lowest carbon options and reducing resource use?
---
Primary care's carbon footprint
The majority of primary care's carbon footprint comes from our clinical work. A Lancet paper calculated that 60% of primary care's carbon footprint was clinical. The following charts come from carbon foot printing work done in local general practices by Dr Matt Sawyer of SEE Sustainability.


The clinical carbon footprint is largely from prescribing of medicines (57%) and Inhalers (43%). Inhalers are divided into Maintenance and SABA (short acting beta agonist) inhalers (figure 2).
The non-clinical carbon footprint in primary care comes from patient and staff travel (41%), followed by energy use (29%) and then business services (22%) (figure 3). You can quickly calculate your practices non-clinical carbon footprint here.


The full report on the Carbon Footprint of GP Practices Across Humber and North Yorkshire ICS can be found here
---
Greener Asthma Care
We can improve asthma outcomes and reduce our carbon footprint from metered dose inhalers at the same time! Learn how with the quality improvement toolkit for high quality and low carbon asthma care.
The toolkit has step-by-step guides and plenty of resources to help practices achieve the respiratory and sustainability targets in the Network Contract Investment and Impact Fund targets.
Here are the links to the educational videos from the High Quality and Low Carbon Asthma Care Toolkit:

Reducing the carbon footprint from inhalers: Pressurised metered dose inhalers (pMDIs) are the most commonly prescribed inhaler in the UK and contribute to 13% of the emissions the NHS directly controls! This is because they contain propellant fluorinated gases (HFCs) which are approximately 1000-300) times more powerful that carbon dioxide. Remember CFC-free inhalers still contain these powerful HFC gases! This diagram shows the difference in carbon footprint between a Ventolin pMDI inhaler and an Ventolin accuhaler (dry-powder inhaler) which does not contain any propellant gas. The Humber and North Yorkshire green plan has committed to reducing the carbon footprint from inhalers by at least 50% by 2027.
Improving disease control: The most important thing we can do to reduce emissions from inhalers is to improve asthma disease control. The UK has some of the worst outcomes in Europe from asthma. Many of our asthma patients are not using enough preventer inhaler or use too many reliever inhalers and have poor inhaler technique. 70% of the inhalers we prescribe are reliever inhalers (usually salbutamol).
Offering low carbon inhalers: In asthma these low carbon inhalers are dry powder inhalers which require a deep and fast breath in to work. Most patients can use them and some will find them easier to use. They do not require a spacer device and usually come with a dose counter. Young children, those with severe asthma and some elderly patients may not be able to use these inhalers.
Guides for GP Practices
For a one-stop hub of information and resources on greener General practice please look at the Greener Practice website at www.greenerpractice.co.uk
Several guides have been created to enable them GPs to start on their decarbonisation journey for non-clinical carbon. These training guides are provided free of charge for GPs to use.
The full guide is below, or click on the images of the individual guides to view.