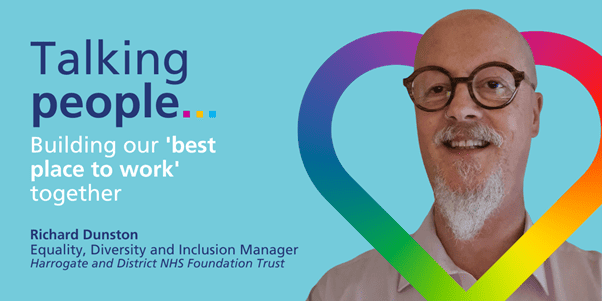 "We are all different and we are all the same, depending on the lens you use. But imagine a world where we are excited and enthusiastic about learning about our LGBT+ peers who have been 'othered' over the years… Imagine the enrichment in your life if you open your eyes and your heart to people not the same as you."
We continue to see and for many of us be part of Pride events across the country, right through the summer months, however, I do wonder just how much consideration is made by the event organisers, the people taking part and the LGBT+ community for those who are 'othered.'
I am talking specifically about those of us who are impacted by intersectionality, whether that is by ethnicity, disability, religion or belief or the remaining protected characteristics from the Equality Act (2010).
Let's reflect a little on the last four or five decades (if you are old enough)… As a gay man growing up in the 70s and 80s, I recall those sickening feelings of anxiety and worry when we were all subjected to some of the horrors of the era, brandished around on our television sets.
The falling tombstones on TV at the start of the AIDS (acquired immune deficiency syndrome) crisis, Thatcher's Section 28, the bombing of the Admiral Nelson bar in Soho, London and so many other life-changing events have shaped us as the LGBT+ community but have also shaped our heterosexual peers.
The Sexual Offences Act (1967) legalised homosexual acts in England and Wales between men who had reached the age of 21. It was slow progress as the acceptance of our community grew and we started to come out without the risk of being prosecuted.
Less than 20 years later, the public perception changed due to the AIDS epidemic and those strong, negative assumptions and rhetoric returned from those earlier years. These tropes saw LGBT+ people seen as 'perverts', 'deviants' and 'predatory' and were re-enforced in the late 1980s by Margaret Thatcher's introduction of Section 28. This piece of legislation made it forbidden to educate children about families that did not conform to heterosexual, binary parents.
So, what does all of this history have to do with being 'othered', intersectional or neurodivergent? It is because none of those things 'mattered' then.
We were known for our sexual orientation and that was pretty much it. We were all considered to be the same, we were all lesbian, gay, bisexual, transgender yet we are all so much more.
The lived experience of someone who is Black and gay will be very different to someone who is disabled and gay, or who is Muslim or has an Autistic condition and is proud of their sexual orientation. They will all have their individual motivations and each person will have stories of how their lives have been impacted differently from those of others.
I guess this is the whole point of this blog. We are all different and we are all the same, depending on the lens you use.
Certainly, there is the whole hierarchical issue within the LGBT+ community that puts bisexual people way down below lesbians and gay men with harmful tropes like 'they can't make up their mind' or 'want the best of both worlds'. This biphobia can see bisexual, pansexual or omnisexual people often erased from the LGBT+ community.
Supporting transgender colleagues is just one of those areas that people do not talk enough about yet. The things that people do understand are often the things that they are not prepared to call out and what they don't understand, they will believe it has nothing to do with them or they won't help in case they make an error of judgement.
As for me, a neurodivergent gay man, I have to contend with not only educating people about what is right and appropriate when you are addressing the LGBT+ community but also about being neurodivergent, which has been there all my life.
It just wasn't known about (for me) until quite recently. So, my lived experience reflects upon my difficulties in school, not fitting in and being bullied. My college years were no different for that matter. However, once you find yourself, understand yourself and love yourself, life does become so much easier.
I am married to a neurodivergent man and I have a job and education that has been adjusted to enable me to be a valued and successful employee in the work I do.
I feel I am 'lucky' as I am White and I do not have a visible disability. My lived experiences have been possibly easier than those who have a different skin tone, a disability or a strong belief.
But imagine a world where we were excited and enthusiastic about learning about our LGBT+ peers who have been 'othered' over the years. Imagine the spark in your mind that stimulates your education and your values.
Imagine the enrichment in your life if you open your eyes and your heart to people not the same as you. The Humber and North Yorkshire Inclusive Language Guidance provides information on the power of inclusive language and can help you to start your journey on learning about the diversity of the 200,000 people who work in health and care across our region.